IFHRMS is an Integrated Financial and Human Resources Management System which is managed by the Finance Department, Tamilnadu. This helps Tamilnadu government employees to know their Monthly Payslip and download & Payroll details online.
How to Login into IFHRMS:
To get started with IFHRMS Login to access the entire service use the following steps which we listed below
Visit https://www.karuvoolam.tn.gov.in/ and click the "Login" option at the top of the page.
Then enter your User ID (11 Digit Code) and Password in (DD/MM/YY) Format.
Then press the "Sign In" button.
How to solve Login Error Issue in IFHRMS:
If you face any issues while login your IFHRMS Portal that will show the login error message sometime. So you can follow the below steps to solve the issue and retrieve your account with previous details.
1. Take a screenshot of your Error Message while you are trying to login into your account with your Mobile Phone or Computer. Then save the Error Message screenshot image that should need to be attached in the final step.
2. Log in with your colleague or friend, another staff account with their account details.
3. And click the "Issue Registration" Option. After the Issue Registration form will be opened then enter your details such as Employee Email id, Mobile Number, and Choose a District.
4. In Type of Bug – Choose "Login Issue-PROD" Option and Sub Module – Bills_Processing
5. Then Summary & Description textbox just enters as "Login ID Issue".
6. The final step will be to attach the Error Screenshot which we did on the 1st step. Choose the screenshot and press the "Submit" button.
7. Now the Bug ID will be created in green color at top of the page. So Kindly Note the ID for account retrieval.
8. Then call 044 40172172 then tell your Bug ID No to rectify your account immediately.
Note: Watch the Demo Video for better understanding
Download Monthly Payslip in IFHRMS:
To download Your Monthly Payslips at IFHRMS follow the below steps at Karuvoolam IFHRMS Portal.
1. Login with account and press "Reports" Menu.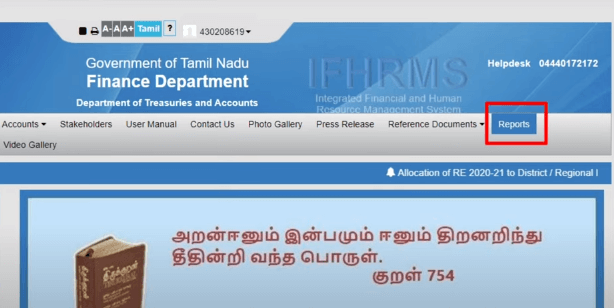 2. Then choose the Month to download salary payslip and click "Go" button

3. Then click the EMP_REGULAR_SALARY Link.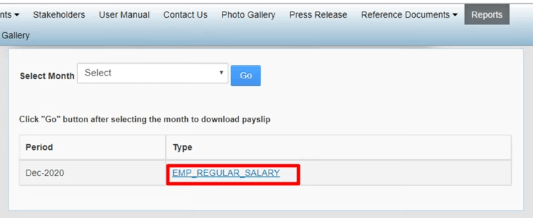 4. Download & Extract Zip File.
5. Open the file with your password. (Your DOB is your Password: DDMMYYY)
IFHRMS Helpdesk & Contact Details:
Email ID: helpdesk@karuvoolam.tn.gov.in
Helpdesk : 044 40172172
Users if you have queries related to IFHRMS Login please leave a comment below. Our team will ready to help you.
Source link